Strap on Cucking Gamer Girlfriend Eliza Ibarra Scarlit Scandal
67
Strap on Cucking Gamer Girlfriend Eliza Ibarra Scarlit Scandal
Eliza is playing video games in the living room when her girlfriend wants a turn. Eliza says she's not done so her girlfriend pouts and turns away…..Letting Scarlit check out Eliza's ass at her leisure! Liking what she sees, Scarlit gives Eliza's firm ass a slap before flashing her and giving a "pussy lick" gesture. Eliza gets the message and hands off the controller to her girlfriend, who gets sucked into the game as Eliza and Scarlit sneakily fuck on the couch, Scarlit's strap-on making it hard for Eliza to stay quiet! Eliza rides the strap and squirts so hard that the spray even enters her girlfriend's field of vision! Her girlfriend stops gaming and leaves the room in a huff while Eliza and Scarlit continue scissoring, eating pussy and squirting all over the couch. They hide as they hear Eliza's girlfriend return, laughing when she sits on the strap-on accidentally before crawling sneakily away, giggling.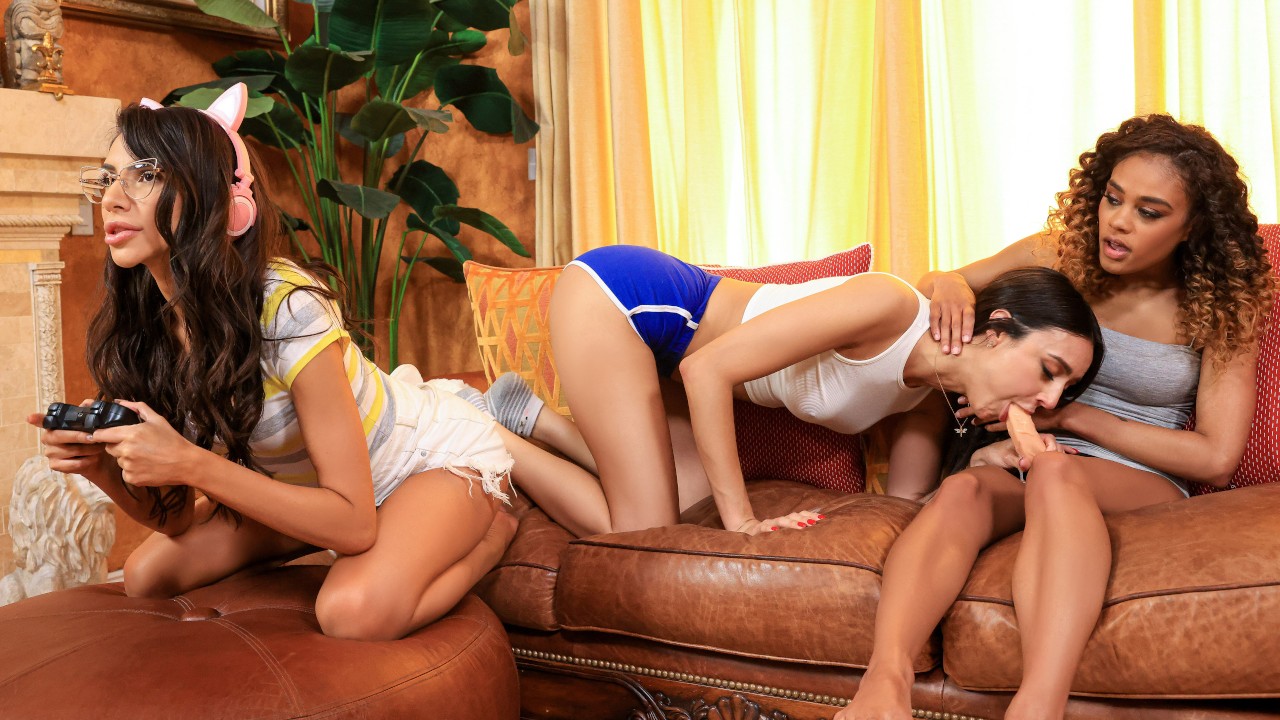 Eliza Ibarra's path to porn was as calculated and precise as her ability to suck a big dick! Born in the palmy shade of Riverside, California, this cutie loves to goof around on set, but when there's fucking to be done, she's all in! After working in restaurants and selling motorcycle gear for a few years, Eliza's overtly sexual nature gravitated her slim body and fine ass towards the world of adult entertainment. At 18 years old, Eliza got in touch with adult film star legend Bruce Venture for a private fuck session, just to see if she could handle all that cock before approaching an agency. Backed with a stellar recommendation from Venture, this sexy chick's career exploded overnight, getting tons of industry attention! Praised for her ability to suck good dick and always carrying high levels of enthusiasm when it came to getting her tight pussy filled, Eliza and her perky little tits are on a quest for porn greatness!
Petite Scarlit Scandal had already learned a very important lesson by the tender age of 19 when she first started in the booty game: Never neglect the balls. This talented spinner always astounds with her deepthroating and dick-taking skills, but it's the way she makes sure that her man's stones always feel the love too that has been garnering Scarlit a second and third look from porn fans across the country, not to mention the male talent who want to get the full Scarlit Scandal treatment! Don't neglect Scarlit's videos; take a look at some of her best work now!