One Cumslut Plus Two Dicks Equals Cum Blindness Lily Lou Van Wylde Scotty P
1K
One Cumslut Plus Two Dicks Equals Cum Blindness Lily Lou Van Wylde Scotty P
Lily Lou wants to get her roommates, Van Wylde and Scotty P, attention but they're too busy playing video games to care. That is until she pulls off her panties and flings them directly into Van's face. Van sees Lily is down to fuck and the two take off to get busy. Scotty P notices their absence and decides to take a peek into Van's room. Jealous, Scotty grabs his handy dandy pocket pussy and watches the hot action. Van blows his load all over Lily's glasses and she is cum blind! She takes a walk directly into Scotty P's room just in time to get his hot load from his toy. All three get together in the end and fill Lily in ways she only imagined.
Anals Tight On A Neon Night Kira Noir Damion Dayski full video
Bossy Babysitters Demand Dick Anna Claire Clouds Lily Starfire Mick Blue full video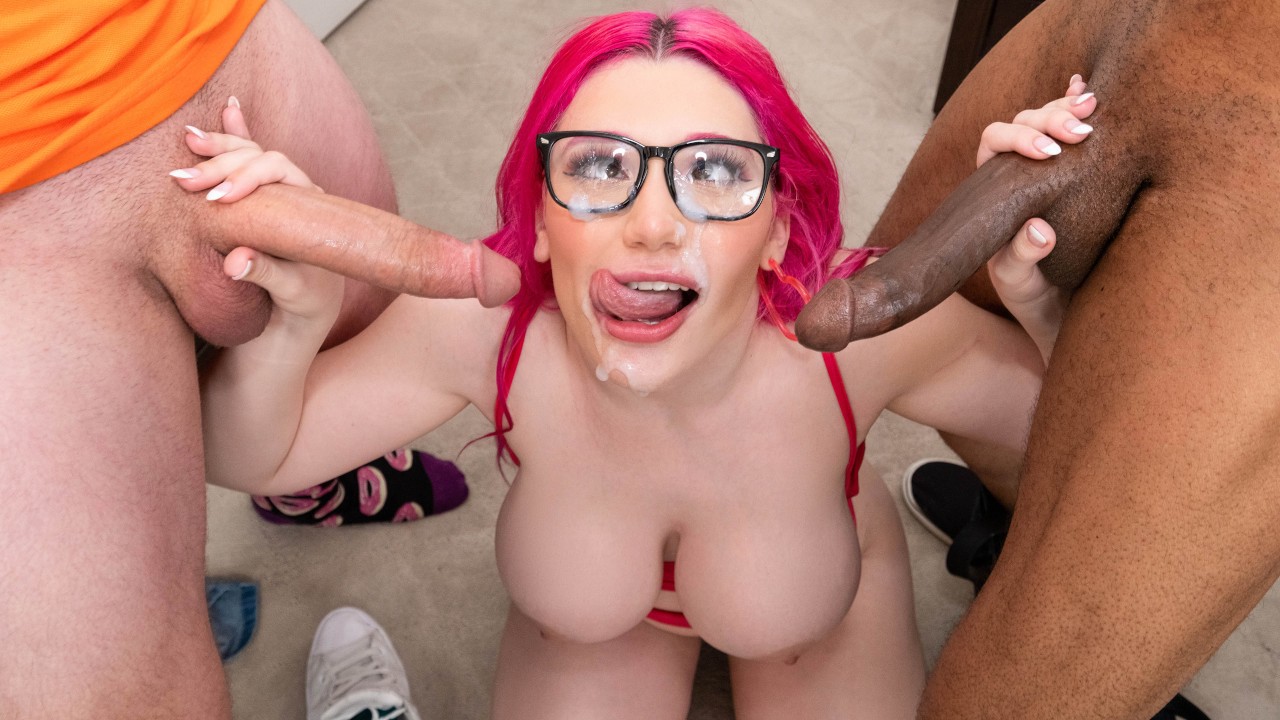 One of the internet's favorite amateur babes, Lily Lou, has finally gone pro! Lily got her start selling her panties online, and says she gradually overcame her shyness as she dipped her toes into the world of photo and video. When the time was right, this curvy brunette made the jump from her personal setup to the professional sets of Porn Valley, and she's feeling right at home! No stranger to fucking her pussy and ass on camera with toys, this gamer babe has leveled up to the biggest and best cocks in the business, and you'll love watching Lily bring her skills to the booty biz.
Like his cinematic namesake, Van Wylde loves the ladies, and the ladies love him. It's not hard to imagine why. It could have something to do with his charm and wit, or even the way he dresses, but chances are it has a little more to do with his skills between the sheets and in front of the camera. A big dick never hurts, either! Van has been rising up the ranks one satisfied pussy at a time since he got signed back in the summer of 2012. When he's not fucking the most beautiful women in the world or chatting away with fans and fellow stars alike on social media, you can probably find him off the California coast, catching some sweet Pacific waves on his surf board.
Before Scotty P got into the smut biz, he was a professional dancer and choreographer for eighteen years, working alongside celebrities as well as teaching his skills to others. Born in St Louis, Missouri, Scotty P initially made his way to LA to pursue his dancing ambitions. When it became more difficult to make money through dancing, the chiseled stud decided on a career change, and so went from busting moves on the dance floor to busting his nuts in tight pussies! A natural in front of the camera, the athletic hunk is using his massive cock to fuck his way through the most beautiful babes in the industry. His costars love Scotty P not only for his sexy skills and toned abs, but also for his friendly demeanor and sense of humor on set. See for yourself just how talented Scotty P is by checking out the scenes below!