Hotline Hotties Come To Life Zaawaadi Ariana Van X Oliver Flynn full video
126
Hotline Hotties Come To Life Zaawaadi Ariana Van X Oliver Flynn full video
Footballer Oliver Flynn is laid up with a twisted angle. Feeling horny, he switches on the tv and starts stroking himself to sex hotline babes, big-tittied Zaawaadi and juicy-assed Ariana Van X. Oliver calls his fuck buddy, hoping she'll come over, but she leaves him hanging dry. Oliver turns back to the sexy infomercial, set on getting his rocks off. What he wouldn't give to jump into the screen! Wait a minute, did Zaawaadi and Ariana just say his name?! It seems like the gorgeous women are looking right at him. Is Oliver's ultimate fantasy about to come true?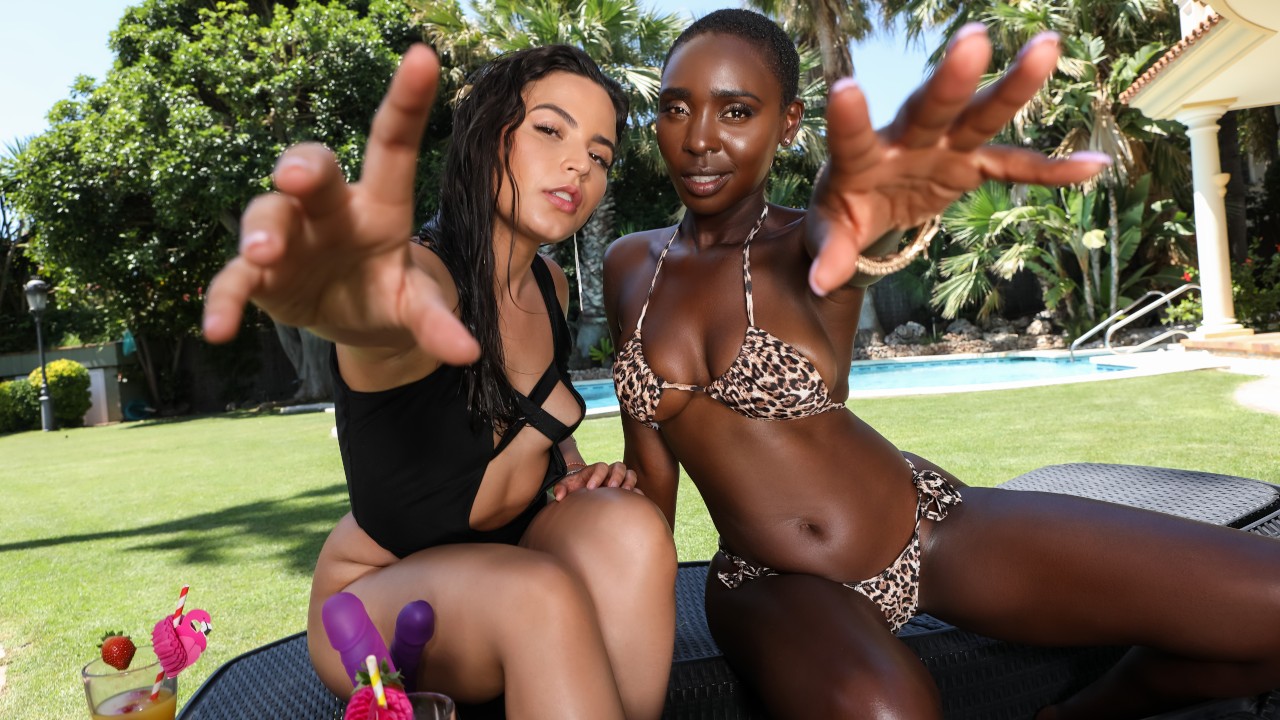 Beautiful Kenyan Zaawaadi has a banging body, a big ass, and gorgeous tits, but it's her confidence that makes her a draw in the smut biz. Seemingly always in control, and in tune with her pursuit for pleasure, Zaawaadi's cool self-assurance is beyond seductive. Originally getting her start in smut by shooting with her husband, Zaawaadi traveled to Berlin where she became a camgirl. Her success led her to try shooting full on porn, and a star was born. Now shooting with some of the top pornstars Europe has to offer, it's only a matter of time before this sensual beauty and her signature hairy pussy become a household name!
Whether sexy stunner Ariana Van X is letting the music move her on the dance floor or grinding on your dick, her big bubble booty is sure to have your full attention. This long-haired brunette always has a mischievous look in her bedroom eyes, because Miss Van X knows that wherever she goes, everyone's thinking X-rated thoughts about her! With her love of threesomes, Ariana is doing her part to satisfy as many people as she can, and her porn scenes are helping her and her ass touch fans all over the world.
Outdoorsy Oliver Flynn never shies away from a challenge. This blond, athletic, all-American guy loves traveling all over the country climbing mountains, riding wakeboards around lakes, and even diving off cliffs! So when Oliver decided to break into the ultracompetitive world of adult film performance, he definitely didn't do it halfway. This muscular stud leaped in with a splash and soon found himself making waves in the industry as one starlet after another started praising his motion of the ocean! Only a few months after his debut in 2018, Oliver had already become known for always showing his costars a great time on set, both with his fun-loving and jokey personality behind the scenes and for consistently giving great dick whenever the cameras roll. And Oliver is dreaming big for where his porn career will take him: he's hoping to go everywhere. "I want to do outdoor scenes! Beaches, waterfalls, rainforests, mountains! Everywhere all over the world!"